First UF WATER INSTITUTE Symposium a Success!
The inaugural UF Water Institute Symposium provided a unique experience bringing together over 450 people from a variety of institutional affiliations, disciplines and personal interests together to discuss challenges to sustainable water resources in Florida and beyond. The agenda was broad and the format was varied allowing people to share information related to the following challenges: ~ Population growth and land use change , ~ Climate variability and climate change , ~ Public health, wildlife health, ecosystem health . The participants also offered potential science, technology, policy and educational solutions for pressing issues affecting sustainable water resources.

PROGRAM (PDF) –View the 2008 Water Institute Symposium Program

PRESENTATIONS - View abstracts and powerpoints presented at the Symposium

POSTER SESSION AND AWARDS - View the Frances C. and William P. Smallwood Foundation Graduate Student Poster Award Winners!

PARTICIPANTS - View the list of 2008 Water Institute Symposium Participants

PHOTOS - View more photos of the Symposium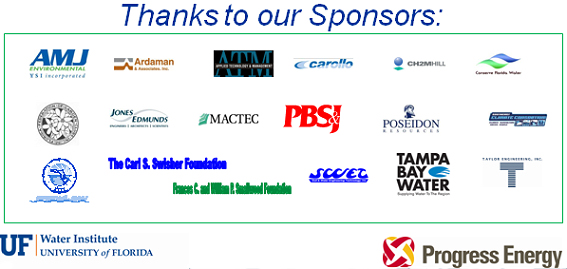 Mark your calendar for the next Water Institute Symposium:
Feb 23-26, 2010!