Santa Fe Waters Test Bed 
Introduction

The CUAHSI WATERS Test Bed project—Design and Demonstration of a Distributed Sensor Array for Predicting Water Flow and Nitrate Flux in the Santa Fe Basin. The study site is the Santa Fe River watershed in north-central Florida.  The Santa Fe River is a major tributary to the Suwannee River and the watershed has similar characteristics to the Suwannee River Basin, but at a smaller scale, making it an ideal test-bed for developing new sampling and analytical capabilities required for observatory science.  Both rivers cross the Cody escarpment (scarp), which marks the boundary between geologically confined and unconfined portions of the Floridan Aquifer, and the change from a surface water to ground water dominated system.  Science questions to be addressed include improving understanding of water and nitrate fluxes, determining the spatial and temporal variability of basin-scale regulators of nitrate load, assessing the influence of landscape factors on nitrate load and delivery dynamics, and determining predictive relationships between nitrate flux and various surrogates.
Photos
Click on each image to see a larger photo.
Deployed Sensors
Nitrate Sensors:
Two nitrate sensors were tested in the Ichetucknee system of Springs.  Both had associated CTD sondes and used telemetry via cell phone to deliver data back to a computer at UF including hourly barometric pressure, water depth, temperature, conductivity and nitrate.
The YSI 9600 sensor uses flow injection technology and works on standard cadmium reduction/diazotization principles (lab in a can), while the Satlantic In-Situ Ultraviolet Spectrometer (ISUS) uses ultraviolet absorption spectrometry.
Conductivity, Temperature sensors:
Twelve CTD (conductivity, temp, depth) sondes are deployed at stream gages along the Santa Fe river, New River and in the Ichetucknee (Figure 2). They automatically record conductivity and temperature data every 15 minutes.  They are downloaded manually every month and data is imported to the Hydrologic Information system.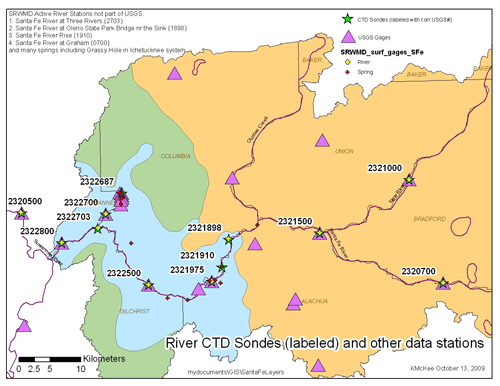 Figure 2. Locations of CTD sondes and co-located river gages in the Santa Fe basin.
Hydrologic Information System (HIS)
We are beta testing the HIS system developed by a CUAHSI team. You can access data in networks 3 ways:
Hydroseek website (hosted by Drexel University)
a.     Accesses webservices on all HIS servers (11 Waters Testbeds) + national NWIS webservice + EPA Storet webservice.
b.    http://www.hydroseek.org/search/
DASH website (hosted by UF Water Institute)
a.     Accesses webservices on our UF HIS server (1 Waters Testbed) + national NWIS webservice.
b.    http://ees-his06.ad.ufl.edu/dash
MS Excel HIS Web Service client (created by UT-Austin, edited by KM); see below.
Instructions for all three are available (2.48MB pdf) (updated June 11, 2008)
HIS Webservice Excel Client - Download Time Series Data
Another way to access the data in our HIS database is through MS Excel 2007.  You must install a small program on your PC
Then you can use these Excel sheets below in which you can see sites, dates of record, variables recorded and time series.
Surface Water Time Series
After careful analysis, USGS flow stations and FDEP STORET Water Quality stations (2nd column) in the Santa Fe basin were selected and geographically/hydrologically matched for comparison.
Groundwater Time Series
Map Images